GO ANYWHERE. GET EVERYWHERE
FORD RANGER
FORD RANGER DOUBLE CAB
When you work as hard as you do, you demand a double cab pick-up truck that is tough, capable, and ready for work. A double cab pick-up, also known as a crew cab pick-up, has a full-size cab, benefiting from 4 doors and extended legroom. The spacious second row seating means the Ranger Double Cab pickup gets you and your crew to site with all the comfort of a premium passenger vehicle. And there's a reason the Ford Ranger is Europe's best-selling pick-up truck†. With an exceptional 1-tonne carrying ability, capable of towing up to 3,500 kg. Even with a double cab there's still room for a load box length of 1,613mm in the Ranger Double Cab XL, XLT and Limited options (at floor without bedliner). Plus, a formidable range of engines, and rugged off-road capability: Ranger Double Cab makes your work life easier and leisure time more fun.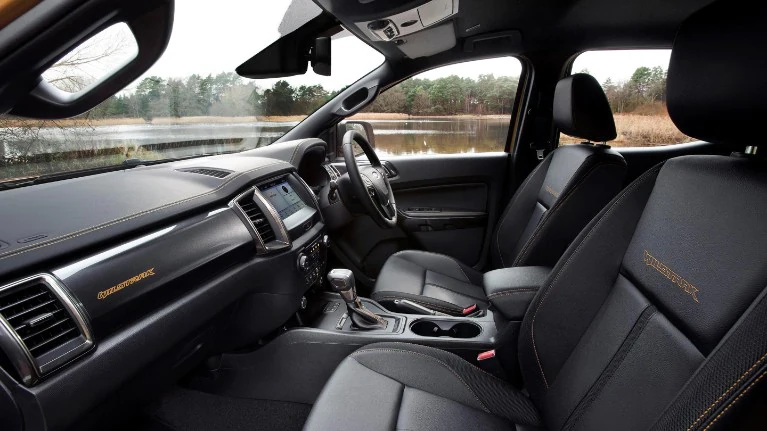 ACTIVE PARK ASSIST
Active Park Assist can steer your Ranger Double Cab into parking spaces. Simply push a button and the sensors of this innovative system locate a suitable space as you drive past. Then it automatically steers you in, while all you do is operate the accelerator, gears and brake (following on-screen instructions and audible signals).
FORD ECOBLUE ENGINE
Featuring a range of next generation diesel engines, the Ford Ranger Double Cab is more powerful, more efficient and has lower emissions than ever before. With three powertrains available, offering up to 213 PS of horsepower and 500 Nm of torque, you're guaranteed to find the double cab pick-up for you.
AUTO START-STOP
When you stop at traffic lights or your vehicle is idling in a queue, this technology can automatically switch off the engine. When you're ready to move, just depress the clutch and select first gear as usual, or release the brake on an automatic, and the system restarts. Available in vehicles with an automatic transmission, Auto Start-Stop is particularly effective in town and city streets, where it can cut fuel consumption by up to 10%.
FORDPASS CONNECT
FordPass Connect becomes even more powerful after it's been paired with your smartphone via the FordPass app. Once connected, you'll unlock a range of innovative new features. For example, you can use your phone to locate your double cab pick-up, and lock or unlock it remotely. You can monitor fuel level, mileage and tyre pressure, and get vehicle health alerts direct to your phone. You can also program your satnav from home by sending a destination directly from your phone to the pick-up.
PRE-COLLISION ASSIST WITH PEDESTRIAN DETECTION
Pre-Collision Assist with Pedestrian Detection uses RADAR and camera technology to scan the road ahead of your Ranger. If a collision risk with a vehicle, pedestrian or cyclist is detected, it'll then provide you with a warning. If you don't respond in time, the system can automatically apply up to full braking force to help reduce the severity of, or even eliminate, some frontal collisions