BUILT FOR GREAT THINGS
FORD RANGER RAPTOR
FORD RANGER RAPTOR
Ranger Raptor is no ordinary pick-up, the Raptor is a performance 4x4 pick-up truck. Bred from the iconic toughness of Ford Ranger and infused with the performance DNA of the Focus RS – the Ford Ranger Raptor is born for off-road performance. A specially engineered, bi-turbo Ford 2.0-litre EcoBlue Diesel works with a 10-speed automatic gearbox and paddle gear shifters. And equipped with an impressive All-Terrain Management System, the Raptor is a 4x4 pick-up truck that delivers the ultimate experience, both on and off-road. Ranger Raptor is a double cab pick-up, also known as a crew cab pick-up, meaning it has a full-size cab and benefits from 4 doors and extended legroom. The spacious second row seating means the Raptor can comfortably bring your friends and family along for the ride. When compared to the rest of the Ranger line-up Ranger Raptor is a small pick-up truck in terms or load space, but the Raptor overcompensates with its performance.
TERRAIN MANAGEMENT SYSTEM
When driving off-road, every terrain requires a different approach. To help you make the most of the Raptor's 4×4 capabilities, a Terrain Management System enables you to fundamentally adjust the 4×4 pick-up's acceleration, traction control, steering sensitivity, gear change behaviour and more. Choose from six different modes to maximise performance in all conditions: Normal mode, Sport mode, Grass, Gravel and Snow mode, Mud and Sand mode, Rock mode, and for unbeatable off-road performance, Baja mode.
EASY LIFT TAILGATE
The Raptor is now available with an Easy Lift tailgate. The clever design makes the tailgate of your 4×4 pick-up feel significantly lighter and enables you to open and close it with ease.
UNIQUE GRILLE, ALLOYS, BUMPERS & INTERIOR FEATURES
The unique Ford Ranger Raptor grille, alloy wheels with all terrain tyres and front and rear bumpers give the Raptor its distinctive look. The Raptor grille with 'FORD' in bold lettering matches the mean and tough performance. While the Raptor's 33-inch all-terrain tyres that come on the 17-inch alloy wheels as standard, boast a precise tread pattern, longer tread life, and tougher side walls than standard factory tyres. The unique Raptor front and rear bumpers then finish off the aggressive exterior. Inside, the unique heated seats, steering wheel and dashboard make the Ford Ranger Raptor a luxury pick-up truck.
HILL DESCENT CONTROL
Hill Descent Control is designed to regulate your downhill speed in off-road conditions without you even having to touch the brake or the accelerator pedals and it operates in both forward and reverse gears.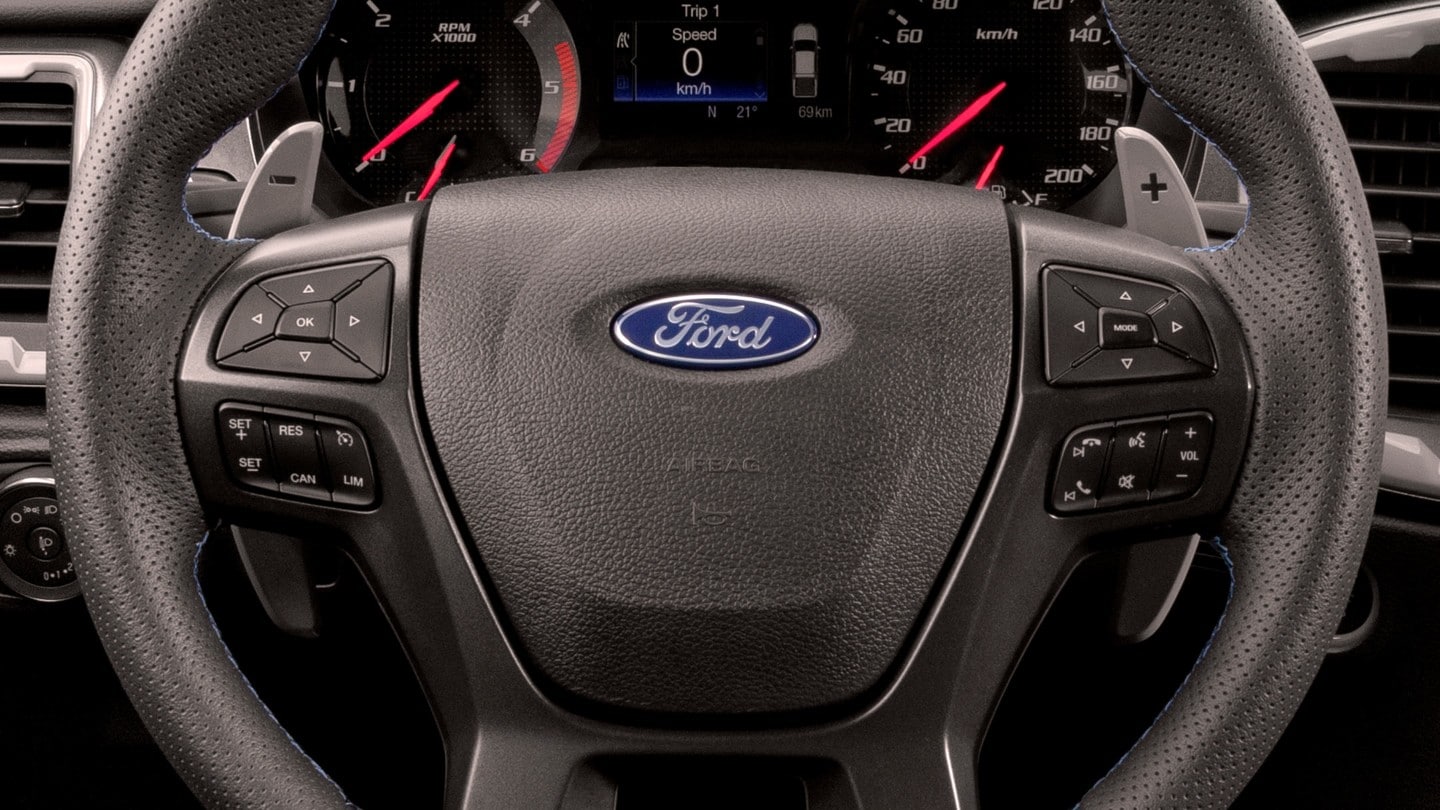 PADDLE SHIFTERS
Performance-inspired magnesium paddle shifters put swift, effortless gear changes at your fingertips. And because they're mounted on the steering wheel, you can change gear more efficiently and without taking your hands off the wheel, wherever you're driving.
FORD ECOBLUE ENGINE
The cutting edge 2.0-litre bi-turbo EcoBlue diesel engine in the Ranger Raptor is engineered for more power, better efficiency and lower emissions. Delivering 213 PS and 500 Nm of torque, this engine sets a new standard for off-road performance pick-up trucks.