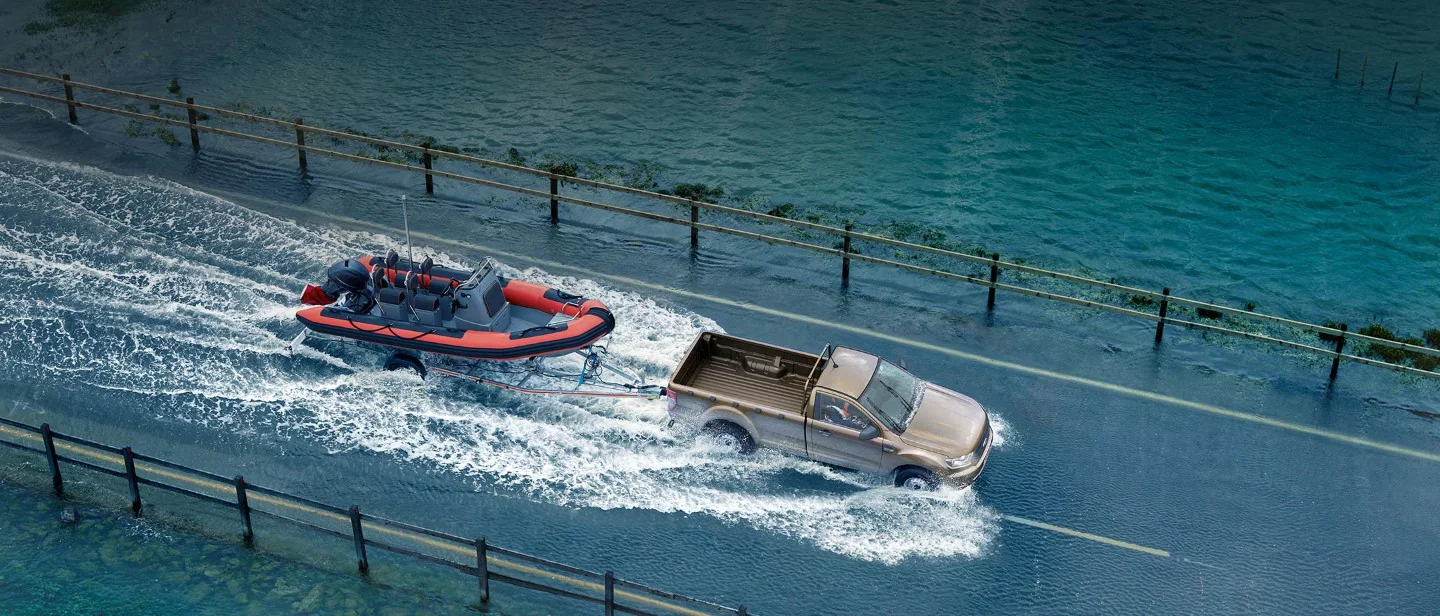 IS WORK SUPPOSED TO BE THIS FUN?
Ford RANGER SINGLE CAB
FORD RANGER SINGLE CAB
Stripped back, built tough, every inch utilised for work. No rear seats means the Ranger Single Cab gets an extended load bed for an impressive XX payload capacity. This means that the Ford Ranger Single Cab XL load box length is 2,317mm compared to 1,847mm for the Super Cab and 1,613mm for the Double Cab option (at floor without bedliner). With an exceptional 1-tonne carrying ability, capable of towing up to 3,500 kg, plus a formidable range of engines, and rugged off-road capability: Ranger Single Cab pick-up truck makes your work life easier. There's a reason the Ford Ranger is Europe's best-selling pick-up truck.
ADVANCED ENGINE TECHNOLOGY
Featuring a range of next generation 2.0-litre Ford EcoBlue diesel engines, the Ranger is more powerful, more efficient and has lower emissions than ever before. With two powertrains available, offering up to 170 PS of horsepower and 420 Nm of torque, you're guaranteed to find the Ranger Single Cab for you
STURDY TIE-DOWNS FOR A SAFER LOAD
These DIN compliant tie-down points help you to carry your load safely and securely. The Ranger Single Cab has 6 tie-down points and they can be internal or external.
FORD EASY-FUEL, FOR FOOLPROOFING FILLING-UP
This useful technology makes it almost impossible to put the wrong fuel in your Ranger, because the wrong nozzle simply won't fit. Even better, as Ford Easy-Fuel is a capless system, you'll never have to handle a dirty fuel cap again.
SENSORS THAT TAKE THE STRESS OUT OF PARKING
Parking sensors at the front and rear of the Ranger help you judge the distance between your vehicle and obstacles around you. When the sensors detect an object, they activate an audible warning that intensifies the closer you get to it.
A PLATFORM FOR BUSINESS
The Ford Ranger Chassis Cab is the latest addition to Europe's best-selling Pick-up range. The International Pick-up Award 2020 winner makes an ideal conversion platform for specialist industries that rely on rugged, dependable, go-anywhere vehicles. Based on the Ranger XL, the tough body-on-frame construction provides a solid foundation for conversions up to 3,270 kg Gross Vehicle Mass, with a heavy-weight towing capacity of 3,500 kg. And with selectable four-wheel drive as standard, the Chassis Cab delivers signature Ranger off-road capability. Ranger off-road capability.